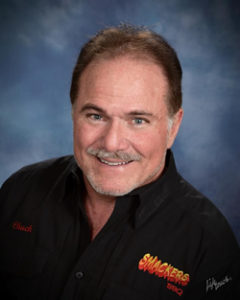 Have you always wanted to make great tasting BBQ? Now You Can Have the Secrets of BBQ Champions in a Bottle.
Smackers wasdeveloped by a veteran certified BBQ judge and former restaurant owner in Memphis, Tennessee, arguably, the BBQ capital of the world. These ingredients were discovered after judging hundreds of the best teams from all over the world. One by one, they gave up a secret ingredient. Little by little, the best were added to the Smackers formula to make a Sweet and Spicy BBQ seasoning that had one ingredient (not a spice) that very few experts know about.  It's called balance.  The most difficult thing to master in making any food taste great is balance of flavors!
Our friends asked us repeatedly to bottle our formula.  So, we finally did.  Smackers "Original" Sweet & Spicy Memphis Style Gourmet BBQ Seasoning is not like any other BBQ seasoning.This is a "Before AND After" seasoning sometimes referred to as a "dry rub" by the experts and is best used as a "finish rub."  You have to put it on before AND after cooking for the absolute best flavor.  Look at your guests' faces when you have them over for dinner or a cookout.  They'll want to know what it is and we certainly hope you can't keep a secret.  They'll want some to take home so you better have extra on hand.  Smackers is so good, you'll love passing it out as gifts for your family and friends, or, as a company promotional item instead of ink pens, key chains, coffee cups, and stuff.  And, they will love you for it while you gain new respect as a real BBQ expert.
 Don't wait.  Try Smackers today!!
Chuck Averwater, Founder, Smackers BBQ, LLC
*Not affiliated with any other businesses using Smackers in their name.